Description

This holiday season, transform your dog's wellness routine with our Holiday Care Set, a veterinary dermatologist designed collection created to be your dog's comprehensive skin and fur care routine. To make it even more special, with each purchase, you'll receive our exclusive Floof Crossbody Tote. It's the perfect holiday gift for your floof (or a friend's floof). 


What's Inside:

Double-Sided Daily Brush (only available as part of this set)
Nourishing Shampoo & Conditioner Duo
Soothing Cream for dry paws & noses (2 Set)
Renewing Wipes (3 Set)
Crossbody Tote

About the NEW Double-Sided Daily Brush:


Elevate your pup's grooming routine with our innovative Double-Sided Daily Brush, crafted with a premium wooden handle. One side boasts metallic pins for detangling, massaging the skin, and removing debris, while the other features vegan boar bristles to evenly distribute natural oils for a lustrous coat.
How to use

Renewing Wipes:
Use wipes to clean skin and coat. Safe for use around face, skin folds, ears, body, paws, sensitive areas, and rear. Avoid direct eye contact.

Nourishing Shampoo:
Wet your dog's coat completely with warm water. Apply a generous amount of shampoo onto the body and massage shampoo into fur avoiding the eyes, mouth, and inside the ears. Massage for 3 to 5 minutes. Rinse thoroughly and dry.

Nourishing Conditioner:
After washing with shampoo, apply a generous amount of conditioner from head to tail avoiding the eyes. Massage throughout damp hair then rinse well. Recommended to leave conditioner on fur and skin for 2 minutes to absorb full benefits.

Soothing Cream:
Apply cream to clean paws and nose. For paws, use fingers to apply directly on the paw pads and rub cream until fully absorbed. For nose, use fingers to apply on the nose avoiding the nostrils. Allow cream to dry by distracting your dog with a treat. Use daily to start until paws and nose are visibly moisturized. Proceed to use weekly or as needed to maintain healthy paw pads and nose.

Double-Sided Daily Brush:
Begin by using the metallic pin side of the brush to detangle and remove loose hair, brushing in the direction of hair growth. For longer-haired breeds, ensure gentle strokes to prevent discomfort. Then, switch to the vegan boar bristle side to distribute natural oils through the coat, enhancing its shine and health.


Ingredients

Renewing Wipes:

Water, Sodium Citrate, Saccharomyces Ferment Filtrate, Musa Sapientum (Banana) Leaf/Trunk Extract, Pentylene Glycol, Glycerin, Decyl Glucoside, Simmondsia Chinensis (Jojoba) Seed Oil, Polyglyceryl-6 Caprylate, Polyglyceryl-4 Caprate, Lavandula Angustifolia (Lavender) Oil, Panthenol, Honey, Aloe Barbadensis Leaf Juice, Camellia Sinensis Leaf Extract, Chamomilla Recutita (Matricaria) Flower Extract, Vitis Vinifera (Grape) Seed Extract, Panax Ginseng Root Extract, Tocopheryl Acetate, Sodium Chloride

Nourishing Shampoo:

Water, Sodium Lauroyl Methyl Isethionate, Glycerin, Propanediol, Lauryl Lactyl Lactate, Sodium Lauryl Sulfoacetate, Potassium Sorbate, Phenoxyethanol, Hydroxyethylcellulose, Xanthan Gum, Sodium Cocoyl Glycinate, Argan Oil, Natural Fragrance, Caprylyl Glycol, Olive Fruit Extract, Colloidal Oatmeal, Coconut Oil, Panthenol, Squalane, Sodium Hydroxide, Ethylhexylglycerin, Licorice Root Extract, Manuka Honey, Citric Acid

Nourishing Conditioner:

Water, Isopropyl Myristate, Cetearyl Alcohol, Propanediol, Stearic Acid, Glyceryl Stearate, Castor Oil, Coconut Alkanes, Coco-Caprylate/Caprate, Arachidyl Alcohol, Behenyl Alcohol, Arachidyl Glucoside, Shea Butter, Coconut Oil, Argan Oil, Jojoba Oil, Natural Fragrance, Potassium Cetyl Phosphate, Potassium Sorbate, Sorbic Acid, Aloe Barbadensis Leaf Powder, Hydrolyzed Silk Protein, Panthenol, Sodium Hydroxide, Citric Acid

Soothing Cream:

Water, Coconut Oil, Licorice Root Extract, Cetearyl Alcohol, Stearic Acid, Glyceryl Stearate, Jojoba Oil, Grape Seed Oil, Mango Seed Butter, Sweet Almond Oil, Avocado Oil, Cetearyl Olivate, Sorbitan Olivate, Beeswax, Hydrogenated Ethylhexyl Olivate, Myristyl Myristate, Caprylhydroxamic Acid, Glyceryl Caprylate, Sodium Hyaluronate, Hydrogenated Olive Oil Unsaponifiables, Bilberry Extract, Sugar Cane Extract, Matricaria Extract, Calendula Extract, Lemon Extract, Orange Extract, Sugar Maple Extract, Phenoxyethanol

See our ingredients here.
What's Included

Nourishing Shampoo
A gentle shampoo that cleanses, nourishes, and helps alleviate itching and allergies.

Nourishing Dog Conditioner
An intensive hydrating treatment.

Soothing Cream
A nourishing cream to help relieve and moisturize rough, dry paw pads and noses. Can also be used on wrinkles or other dry, irritated areas.

Crossbody Tote
Our exclusive Floof Crossbody Tote- only available in our Kit.
Double-Sided Daily Brush
MADE FROM WOOD, VEGAN
Your floof's new favorite brush. The metallic pins gently detangle, deshed, and massage the coat while the vegan boar bristles distribute natural oils.

Soothing Cream (set of 2)
A nourishing cream to help relieve and moisturize rough, dry paw pads and noses. Can also be used on wrinkles or other dry, irritated areas.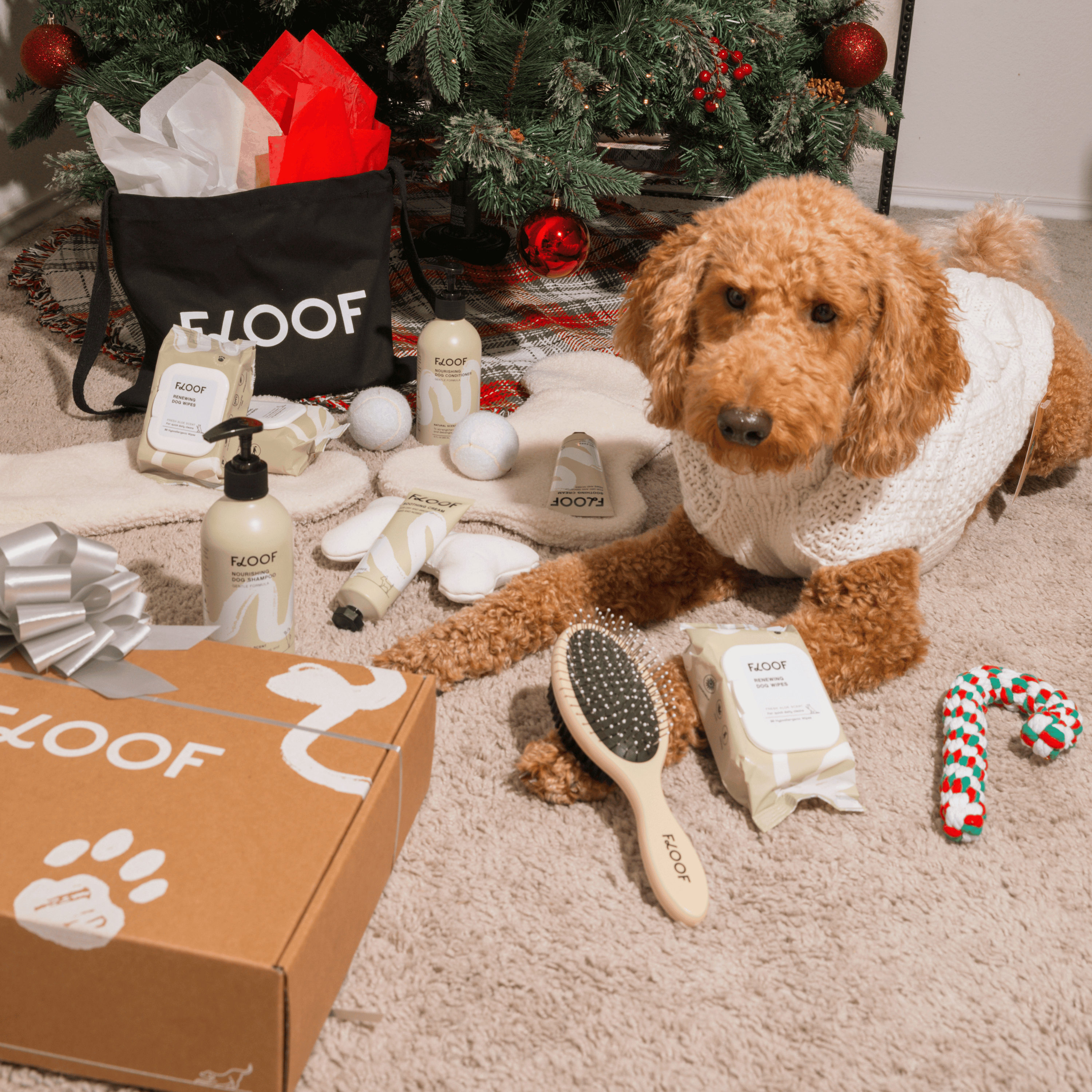 The Best Care For Your Best Friend
Elevate your dog's daily grooming ritual with the exclusive Double-Sided Daily Brush, making its debut only in the Holiday Care Set.
The perfect gift of wellness, this set thoughtfully addresses every skin and coat need, showing your dog the ultimate gesture of care this season.
Crafted by veterinary dermatologists, each product is cruelty-free, hypoallergenic, and meticulously vetted for safety and effectiveness on a dog's skin.
Secure your set before it's gone – the Holiday Care Set is a limited edition collection, ensuring your pup stands out in style and health.
Frequently Asked Questions
Is the Holiday Care Set suitable for all dog breeds and sizes?

Yes, our Holiday Care Set is expertly formulated to suit the skincare needs of all dog breeds, sizes, and coat types. Each product is gentle and effective for comprehensive skin care.
Is the Holiday Care Set a limited edition?

Yes, the Holiday Care Set is a limited edition bundle specially curated for the holiday season. Be sure to secure yours before it's gone!
Can I return the products if they don't suit my dog?

Absolutely! We offer hassle-free, no-questions-asked returns within 30 days of purchase. We want you and your pup to be completely satisfied with your experience.
Reviews
Total 5 star reviews: 79
Total 4 star reviews: 3
Total 3 star reviews: 0
Total 2 star reviews: 0
Total 1 star reviews: 0
Great

All other products we used get on the floor and are super messy. this product actually does what it claims to do. definitely will be repurchasing.

wow!!

been using for the last 3 weeks and wow, my dog's paws are so soft and moisturized. definitely feels like they're more durable for longer walks because after the walks they don't look as beat up. sometimes they would crack a little and that would get me worried but after using this, there's no more cracking!

Reviewing

Shampoo & Conditioner Duo

Truly a gentle cleansing set

We've tried tons of different shampoos at home and at the groomer but we couldn't find a product that didn't cause any flare ups or itching post bath. This shampoo/conditioner set is really what they say it is. It's super gentle so it doesn't irritate my dog's skin at all. Really happy I found this and definitely worth the price.

The besttttt

the best cream ever. makes my dog's paws look like they did when he was a puppy. so healthy, soft, and moisturized. thank you floof!

Really Nice!

These wipes are the perfect addition to our walk essentials. I always keep them in my bag!!
Reviews Loaded
Reviews Added