CYBER MONDAY EXTENDED
25% Off Sitewide
Elevate your dog's holiday wellness with 25% off our vet dermatologist formulated care essentials.
Marquee
Made in USA
Hypoallergenic pH Balanced Vet Dermatologist Formulated Gentle Paraben-Free NO HARSH CHEMICALS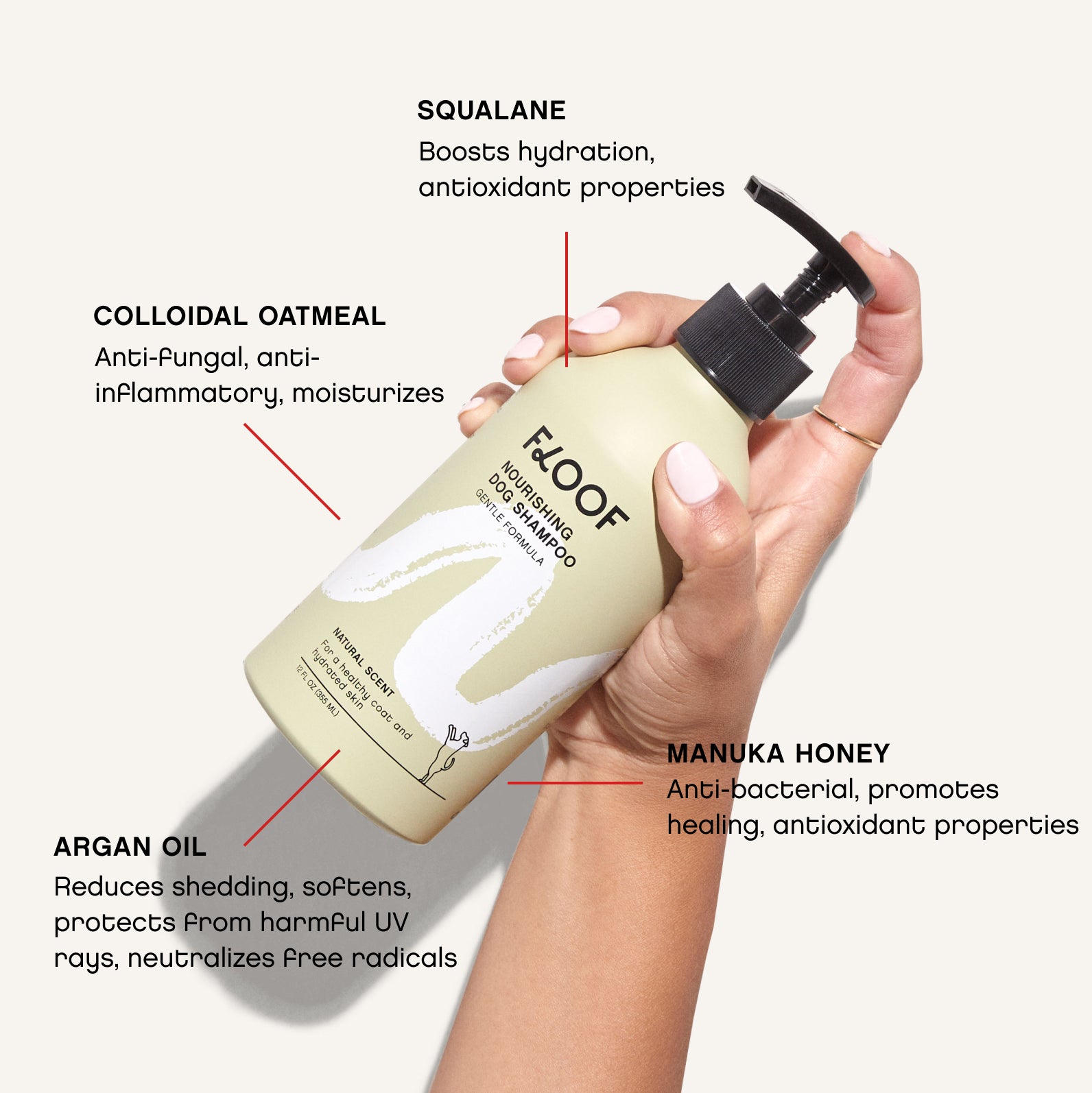 We bring the science, you bring the love
Science-backed formulas created by a veterinary dermatologist
Formulated with high-quality, gentle ingredients specifically suited for a dog's sensitive skin
pH balanced, no harsh chemicals, hypoallergenic, cruelty-free, paraben-free, sulfate-free, synthetic-fragrance-free, and alcohol free
Safe for all floof types (even puppy floofs)
Meet our Vet Dermatologists
Dr. Jennifer Schissler, DVM, MS, DACVD

"We formulated the Gentle Essentials line using the highest quality ingredients, providing dog parents with a gentle routine for cleaning and maintenance that promotes skin health and hydration"

Dr. Michelle Piccione, DVM, DACVD

"Floof products are developed with board-certified veterinary dermatologists using scientifically based evidence. There are no other products on the market that are this effective but also safe to use on even our most sensitive patients"
Testimonials
Mari & Layla

Adore Floof's Shampoo & Conditioner Duo

Absolutely adored using floof on miss layla bean! knowing there were no harsh chemicals & she was still clean afterwards was amazing!

Duke & Yumi

Yumi Now Has The Softest Paws

I think this soothing cream is good enough for even humans? I have been applying the soothing cream for few days on my dog's nose and her 24 beans, and the moisturizing is exceptional. She tends to get tiny cracks but this keeps her 🐾 very very smooth.

Lumi & Toasty

Best Shampoo & Conditioner

Toasty dealt with allergies and itchy skin for the majority of his life and there was nothing I tried that helped him until I tried Floof's shampoo and conditioner. Now his skin and coat are the healthiest they've ever been! I truly see a difference and am so glad I found something that really works for Toasty.

Catherine & Winston

Best Wipes For Your Dog

The quality is above any other wipe I've used. These wipes are thick and hold moisture unlike other brands that dry out once you open them. Plus, they smell amazing. If you love your dog and care about ingredients then this brand is for you.
Testimonials
"Floof takes a gentle approach to your itchy dog's skincare"

"I've been growing more and more concerned with the pet products that I use for my dog, and I don't have to worry as much with Floof."

"You might seek out Floof, a relative newcomer to the dog skin-care scene specializing in gentle ingredients"